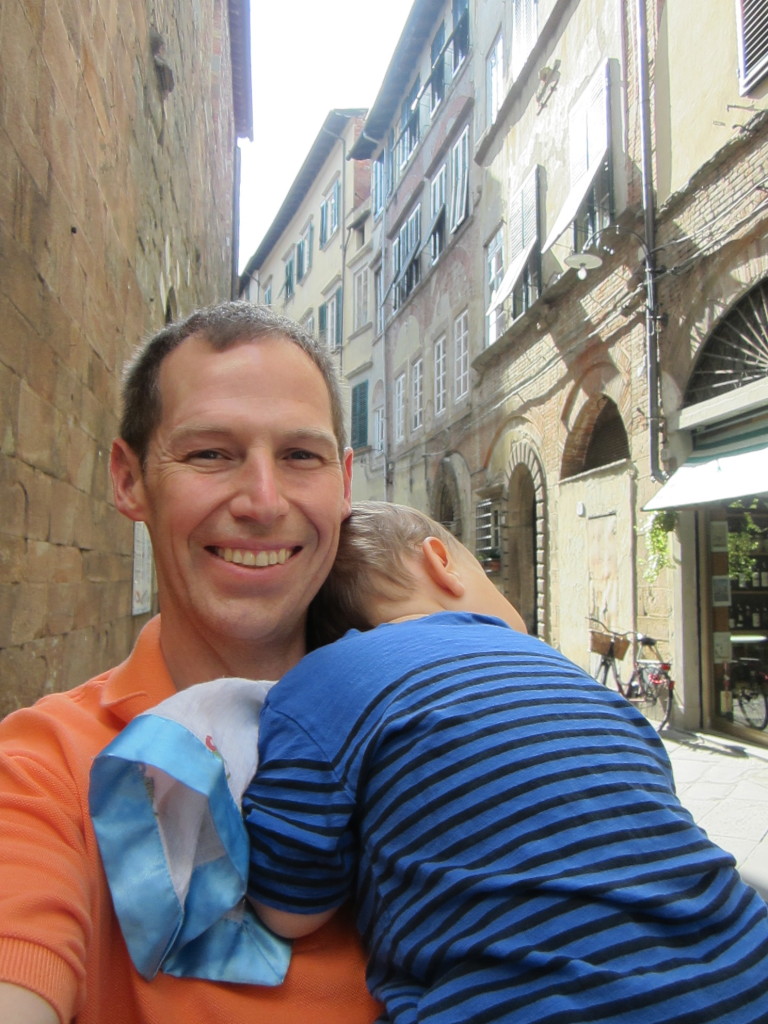 Sergeant Lance Koppa is a familiar face around Highland Park Village and the surrounding community. When he's not fielding calls as the Community Relations/Public Information Officer for the Highland Park DPS, you can find him in front of Whole Foods greeting patrons and asking for family updates.
Sgt. Koppa recently returned from a dreamy family trip to Italy, where he relaxed in the countryside and consumed as much Italian food as possible. We caught up with him to hear about life on the job, his favorite things about Dallas, and what's on his to do list when abroad.
S&S: What is your official job title/how long have you been there?
Sgt. Koppa: Sergeant, Community Relations/Public Information Officer. I have been in this position a little over a year and a half.  I'm utilizing a new set of skills plus networking with professionals from the public and private sector. It feels like a career within a career
S&S: We hear you recently returned home from a yearly trip to Italy… What's on the agenda when you're abroad with your family?
Sgt. Koppa: This year our main agenda item was to relax; however, our son was full-gas so we chased him around the Tuscan countryside. We made two road trips, one to Deruta to purchase ceramic plates, and the second to Lucca. We always visit our favorite restaurants- I miss those long meals.
S&S: What is your favorite thing about Italy?
Sgt. Koppa: The walled cities that feel and look untouched by modernization.
S&S: How did you first get involved with Highland Park DPS?
Sgt. Koppa: I saw an advertisement from HPDPS in the employment section of the newspaper. It was during a time when I was heavily searching for a law enforcement career and there were many opportunities in the metroplex. I still remember the moment when Rene Woods, our Administrative Services Supervisor, called me with a job offer. That was an exciting day for me!
S&S: What do you enjoy about being here in the Park Cities?
Sgt. Koppa: Professionally, it's working with a group of individuals that are dedicated to the mission and providing the best service possible. On a similar note, the opportunity to work alongside the dedicated volunteers in the community.
S&S: How do you balance work and family?
Sgt. Koppa: Careful coordination with my wife, Rachel. Both of our careers require some after hours and weekend duties and we have built a routine around our work schedules. My position with Highland Park offers some flexibility that compliments the home life very well so we rarely encounter any scheduling conflicts.
S&S: What is the most rewarding thing about your job?
Sgt. Koppa: The feeling of making a small contribution to the big picture.
S&S: What is your favorite thing to do in Dallas on your day off?
Sgt. Koppa: Take my son to see and experience something new. He enjoys open spaces so the options normally involve a place where he can run and explore.
S&S: What is the most exciting thing that has happened to you professionally?
Sgt. Koppa: Recently I was in a foot chase with a theft suspect near Lemmon Avenue and the Tollway. As we were running across Lemmon Avenue I flagged down a cab that, fortunately for me, was headed in the same direction. I jumped in the passenger seat and directed the driver to take me to a nearby alley where I had lost sight of the suspect. We quickly caught up to the suspect and I exited the cab to arrest the suspect when his pace slowed to a walk. It felt like a scene scripted from a movie.
S&S: What is something most people don't know about you?
Sgt. Koppa: I played the trombone in our high school marching band.
S&S: What is your favorite restaurant to enjoy a nice long dinner?
Sgt. Koppa: There is a restaurant in Italy, Da Alighiero, which is our absolute favorite. The chef takes your food order.
S&S: What do you order?
Sgt. Koppa: Tomato Bread Soup, crostini platter and a pasta dish.
S&S: What is one thing you wish you knew how to do?
Sgt. Koppa: Play the guitar.
S&S: What do you never leave home without?
Sgt. Koppa: Some form of ID.
S&S:  What do you do to unwind?
Sgt. Koppa: Cycling is my escape.
S&S: Coffee or tea?
Sgt. Koppa: What, no donuts?