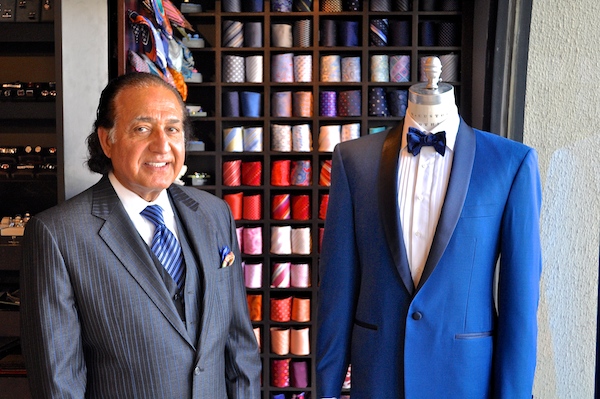 Owner KT Ratan
The original Q Custom Clothier workshop began in 1965, and still employs many of the skilled craftsmen that were employed from the inception. The store specializes in the custom tailoring of suits, sport coats, slacks, top coats, shirts and much more. All garments are constructed from the world's finest fabrics, with suits built using hand selected fabrics from prestigious mills such as Loro Piana, Holland & Sherry and Dormeuil. Q Custom Clothier has been in business for over 45 years.
Owner KT Ratan has always loved fashion.  It's the only thing he ever wanted to do and lucky for us, he stuck with it. "People come in and often ask what we do," he said, "We do all custom made.  We do have a lot of ready to wear clothing, but every other person is not fit in a standard size.  Either their shoulders are too big, their arms are too long, pants are too high, so we customize each item for each individual body."  There are usually 5-10 jackets in a department store to choose from, at Q Custom Clothiers, there are more than five thousand.  This is a big attraction to any customer who walks through the door.  It normally takes four weeks to get your custom items completed.
Ratan has customers who have been coming back for over 40 years.  Recently, he fitted a client's two year old great grandson for a suit.  He has clients all around the globe who he flies to service- from California, Chicago, New York, Philadelphia, Washington D.C., Miami and all over the world.  And, people come to see him from all over the country.  Once a measurement is on file, as long is there isn't a significant weight gain or loss by the customer (15 pounds up or down), he can make anything for that client.  His custom suit materials come from England, Italy, France, Australia, Germany, and Scotland.  Clients wear Ratan's custom clothing for years – twenty year old suits still look great because of the quality.  And, the best part?  His custom clothing is an affordable luxury.  Custom shirts run from $200-$450 apiece and suits from $2,000-$3,500.
The store will make shirts and business suits for women as well.  The seasonal selections are now lightweight fabrics that are perfect for spring and summer. Ratan loves that one of his stores is in Highland Park Village. "The luxury shopping center is located within a community with a very loyal client base. It is better than Rodeo Drive in my aspects.  There's eally no comparison," he said, "I've traveled all over and Highland Park Village is one of the best shopping centers I've ever seen."
When asked to share a memorable story, Ratan said that client and former President George W. Bush attended a conference and noticed a gentleman in a similar suit to his.  He complimented the client on his suit and the client had said, "Thank  you, we have KT in common" and former President Bush said "Yes! KT."
Owner: KT Ratan
Manager: Arijeta Lata
Contact:
214.780.055
85 Highland Park Village
Dallas, TX 75205
Hours:
Monday – Saturday 10:00am – 6:00pm