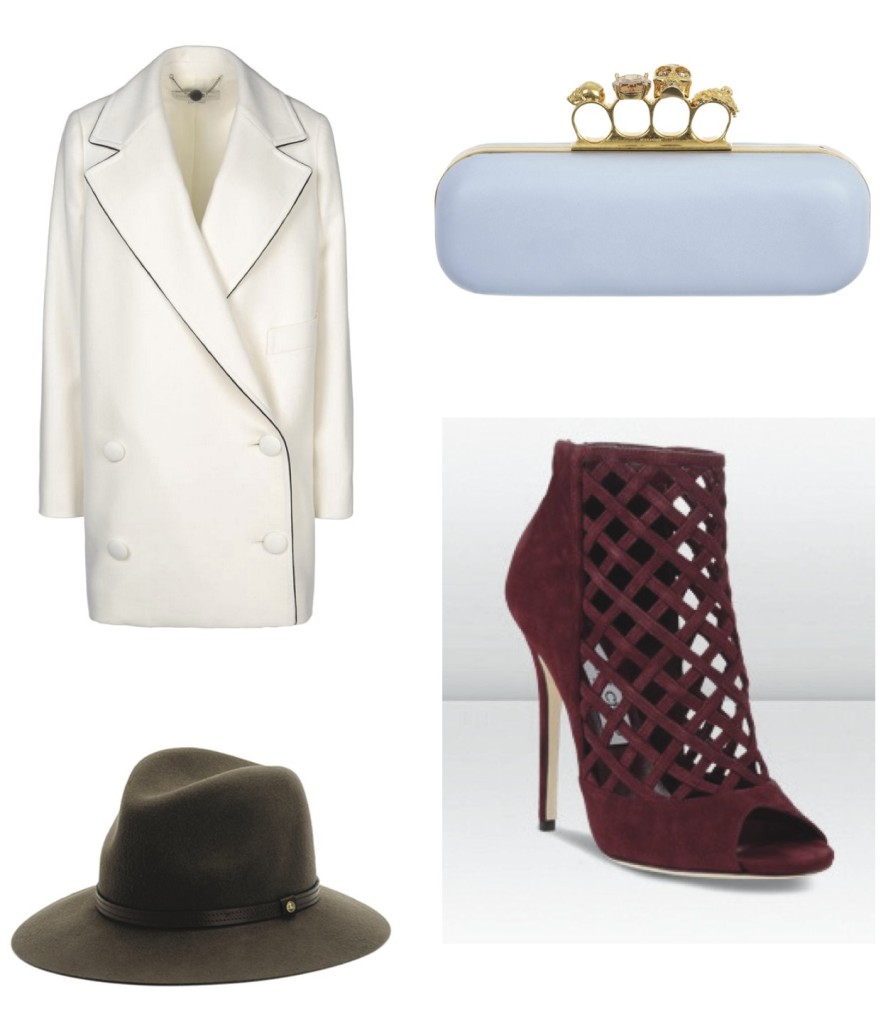 From  top left: Winter White from Stella McCartney, Alexander McQueen clutch, Jimmy Choo booties, Rag & Bone hat
 Here's our Friday quick list to inspire your wardrobe!  Here's a few list of do's and don'ts we've been scribbling down lately and we'd love to hear yours! Please share! 
DO: dress for the season. As much as we love leather, these Texas temperatures are not conducive to the cool-weather trend. Save those pieces for later and wear a dress that is breathable for even the steamiest of days.
DON'T: be afraid to dress like him. Take a cue from Parisian street style and indulge in a masculine look. Pant suits are all the rage right now – whether short or long – and it's a look that can seamlessly transition from board meetings to evening cocktails. (*This Carolina Herrera pantsuit is on our list)
DO: wear white throughout the year. Summer is the perfect time to wear your favorite little white dress, but that doesn't mean the warmer months get all the fun. Once fall rolls around, scoop up that cream blazer or the off-white trousers you've been eyeing.
DON'T: shy away from attention-grabbing prints. Fashion is meant to be fun, so don the leopard, floral, or graphic shift dress that has been hanging in your closet for months. Bonus point: mix and match two patterns to create a stand-out look. (* A FUN print from SCOOP NYC)
DO: stick to what you are comfortable in. Just because something is splashed on the pages of Vogue doesn't mean it's an instant success. Maybe you're too tall for that hemline or can't get away with wearing a crop top to work. Nobody knows your own style more than you.
DON'T: assume that black means boring. Black is one of the easiest ways to look effortlessly chic, and it is making a big comeback this season. Whether you go head-to-toe in the hue or opt for the classic black and white combo, you can't go wrong. (* We love this option from Saint Laurent)
DO: Embrace your figure! Don't get lost in a boxy dress or loose caftan. Buy tailored pieces or cinch your waist with a bold belt. (*This is a perfectly tailored dress from Alexander McQueen)
DON'T: forget to accessorize! This season, invest in a few standout accessories to tie your entire look together. Statement earrings, ornate purses, and structured hats are just a few ways to take your outfit to a new level.