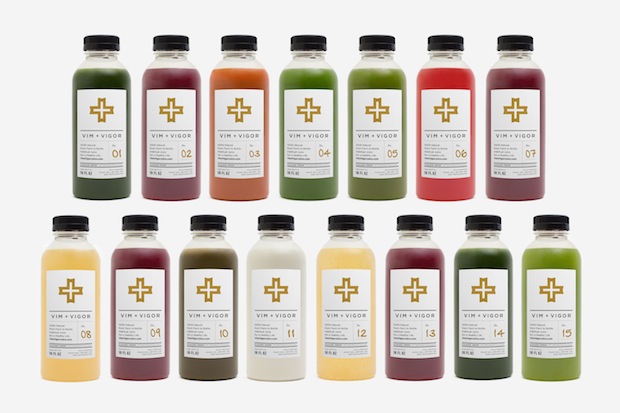 Number One, the brainchild of Brian Bolke – co-founder of Forty Five Ten and Five and Ten located in Highland Park Village, has announced a partnership with Dallas-based Vim+Vigor.  Formed earlier this year by Annie Portman and Elizabeth Black, Vim+Vigor offers delicious and nutritious pressed juices. Using a hydraulic cold press, Vim+Vigor juices are designed to be like a multi-vitamin—the most highly concentrated form of nutrition with three to five lbs. of produce in each 16 oz. bottle.
Vim+Vigor is dedicated to partnering with local farmers, to truly deliver 'farm to bottle' juice to its customers.  "I couldn't be more excited about having Vim+Vigor at Number One," says Bolke, "Annie and Elizabeth's philosophy on healthful, yet delicious, juices and cleanses is right in line with the vision for Number One. We are thrilled to have them on our team."
The juice menu includes:
No. 1: Kale, Spinach, Romaine, Celery, Cucumber, Apple, Lemon
No. 2: Carrot, Beet, Apple
No. 3: Cucumber, Carrot, Apple, Ginger, Lemon
No. 4: Pineapple, Pear, Apple, Romaine, Mint
No. 8: Orange, Grapefruit, Lemon, Ginger
Starting May 1st, Number One will also be retailing Vim + Vigor's Beginner, Intermediate and Expert cleanses with 48 hour advance reservations (cleanse@numberonehp.com).
Number One has a new breakfast (served 7AM to 11AM) and lunch menu (served 11AM to 3PM). Included on the new menu are salads, sandwiches and soups, all prepared in-house to the highest nutritional standards.  All offerings are organic and gluten-free. Most are dairy-free, with vegetarian and vegan options. Snacks such as Tzatziki, hummus, baba ganoush, guilt-free Paleo cookies and Cacao Atlanta organic chocolates will be available throughout the day, as well as Blue Bottle Organic Coffee and Bellocq Organic teas.