Hi there! Eddie and Angelee Fortuna here from HIS + HER Blog, taking over Style & Social today to share with you our recent beauty experience at Highland Park Village. We teamed up with HP Village to showcase some of the beauty services offered in anticipation of their very first Beauty Event April 29 - May 1. In addition to men's and women's fashion, we are major advocates of Dallas as a whole and enjoy experiencing new places of all kinds. So needless to say, it was quite a treat being pampered all day at Highland Park Village.
HIS + HER BREAKFAST (ROYAL BLUE GROCERY)
Highland Park Village really is a one-stop shop for an entire day of relaxation, dining, and of course, retail therapy. We started the morning together at Royal Blue Grocery. This Austin-based grocer is the ideal spot to begin one's day. I had a Tribal Chief fresh-pressed juice with a side of fruit, while Eddie enjoyed his go-to cortado and an almond croissant from Bisous Bisous (which I definitely nibbled on).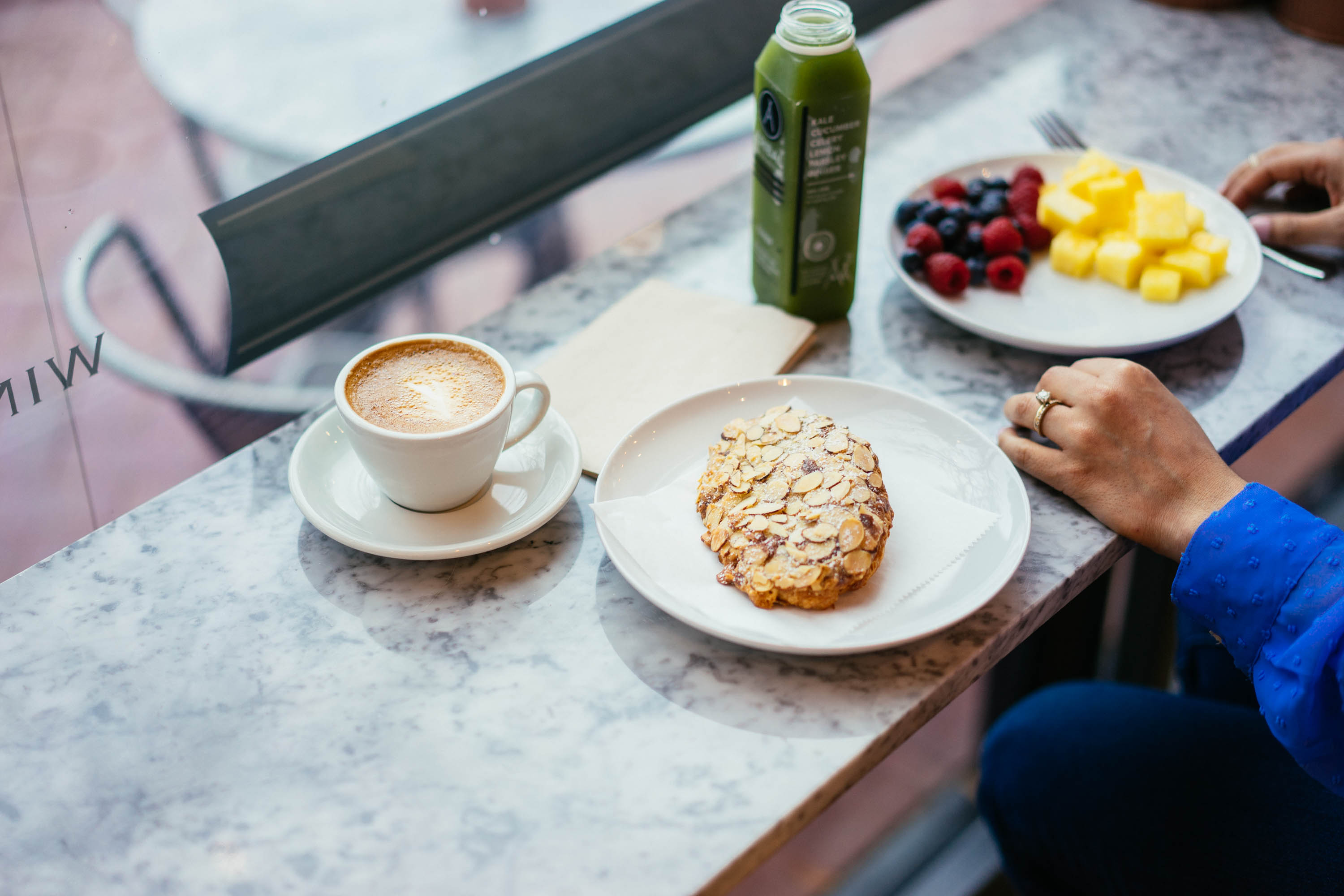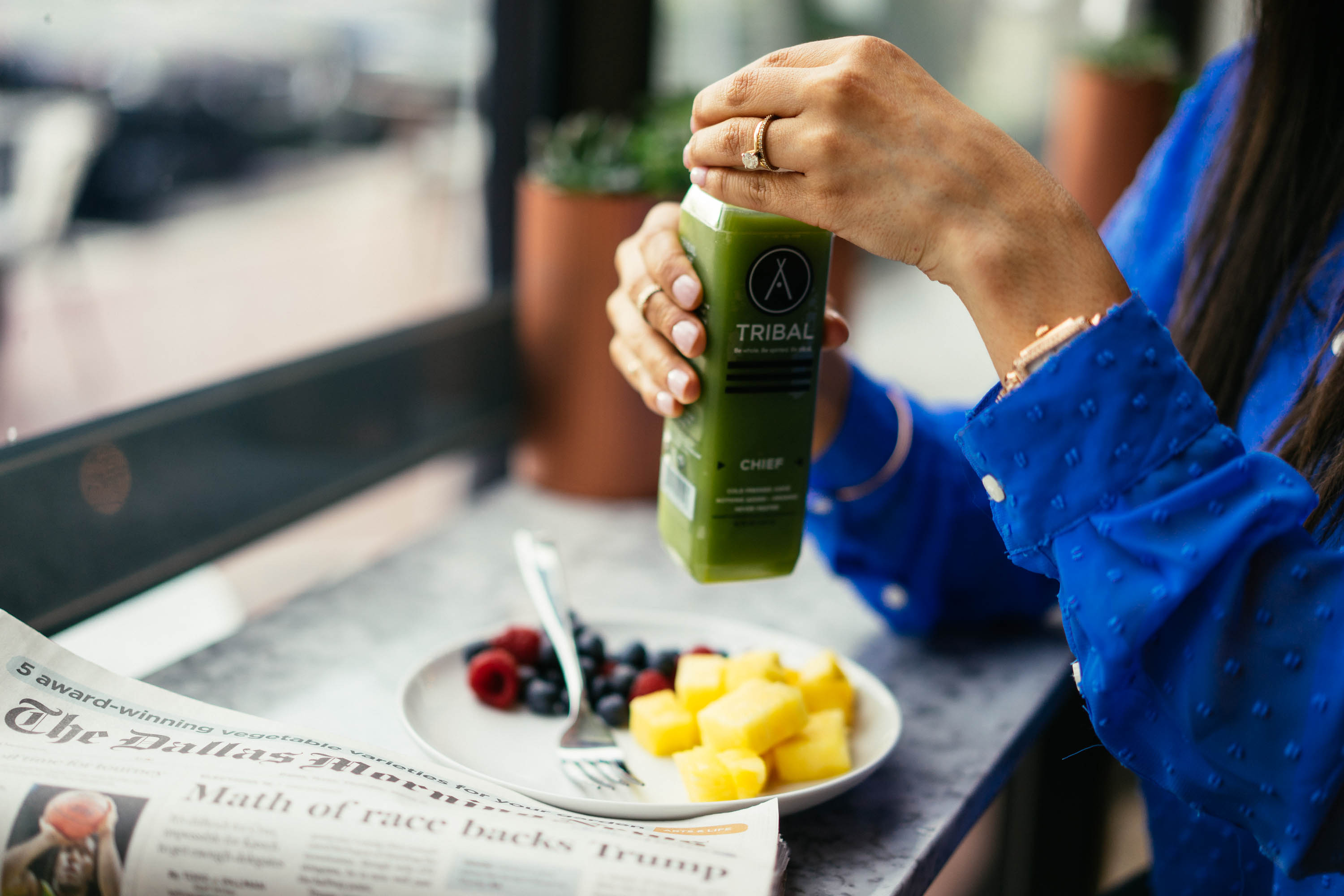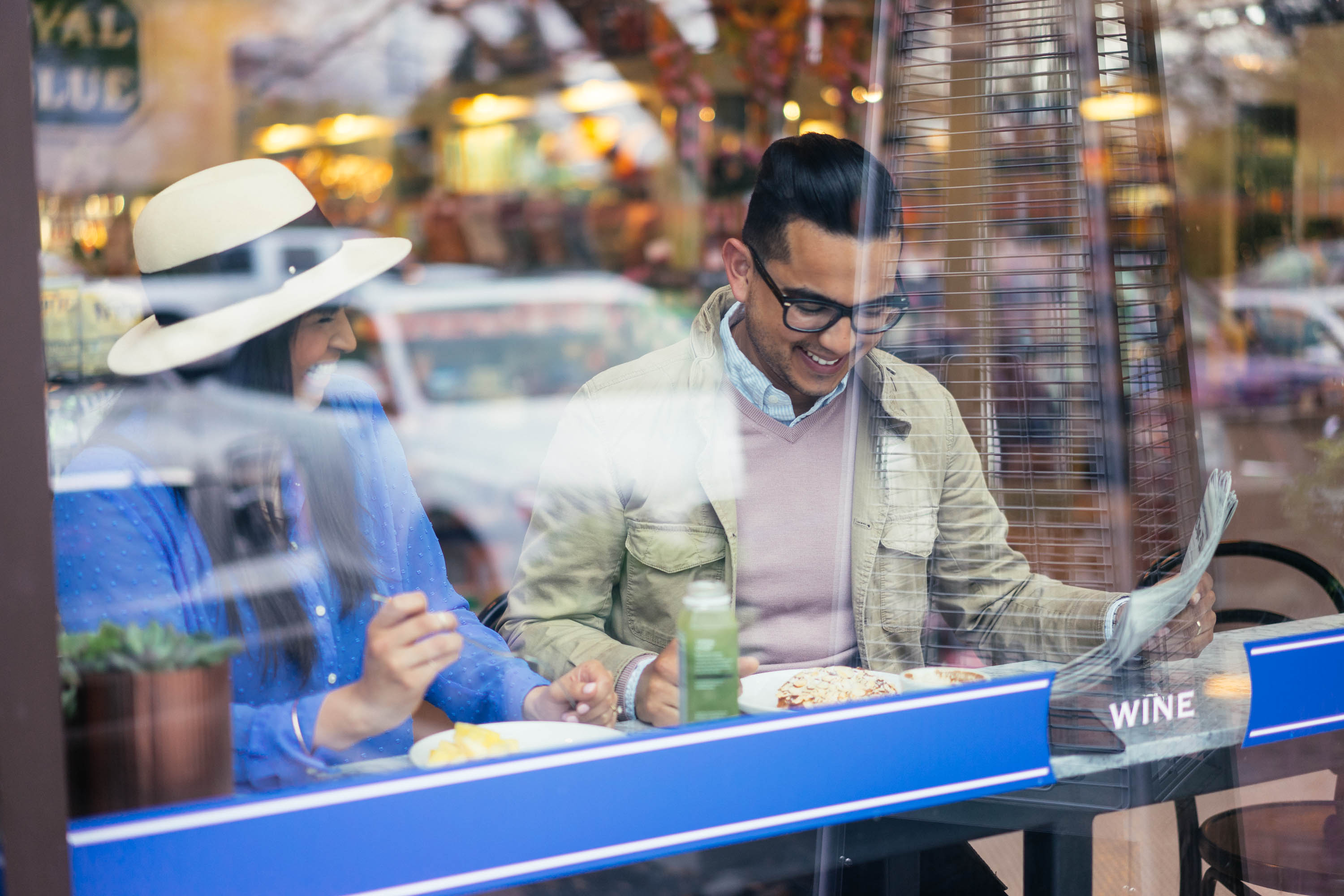 HIS Breakfast: Bisous Bisous Almond Croissant ($4.00), Cortado ($3.50)
HER Breakfast: Tribal Chief fresh-pressed juice ($8.49), Fruit Salad ($4.99)
HIS + HER HEALTHY SKIN CONSULTATION (KIEHL'S)
After breakfast we scooted over to Kiehl's for a Healthy Skin Consultation. Mario and Pamela sat down with us to discuss our routines and even analyzed our skin with their dehydration analyzer tool. Together, they provided a wealth of knowledge about which products we should be using based on our skin types and daily habits.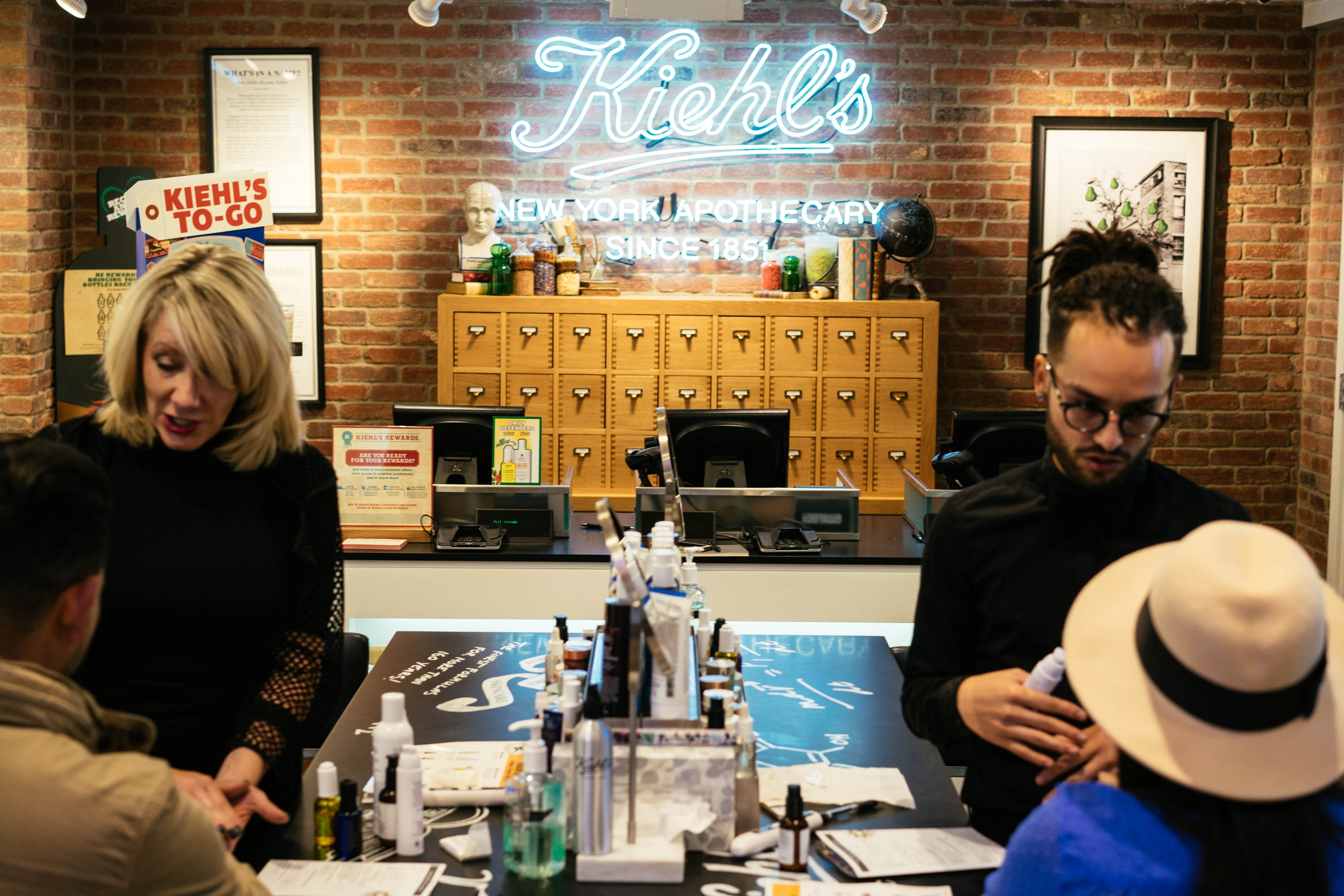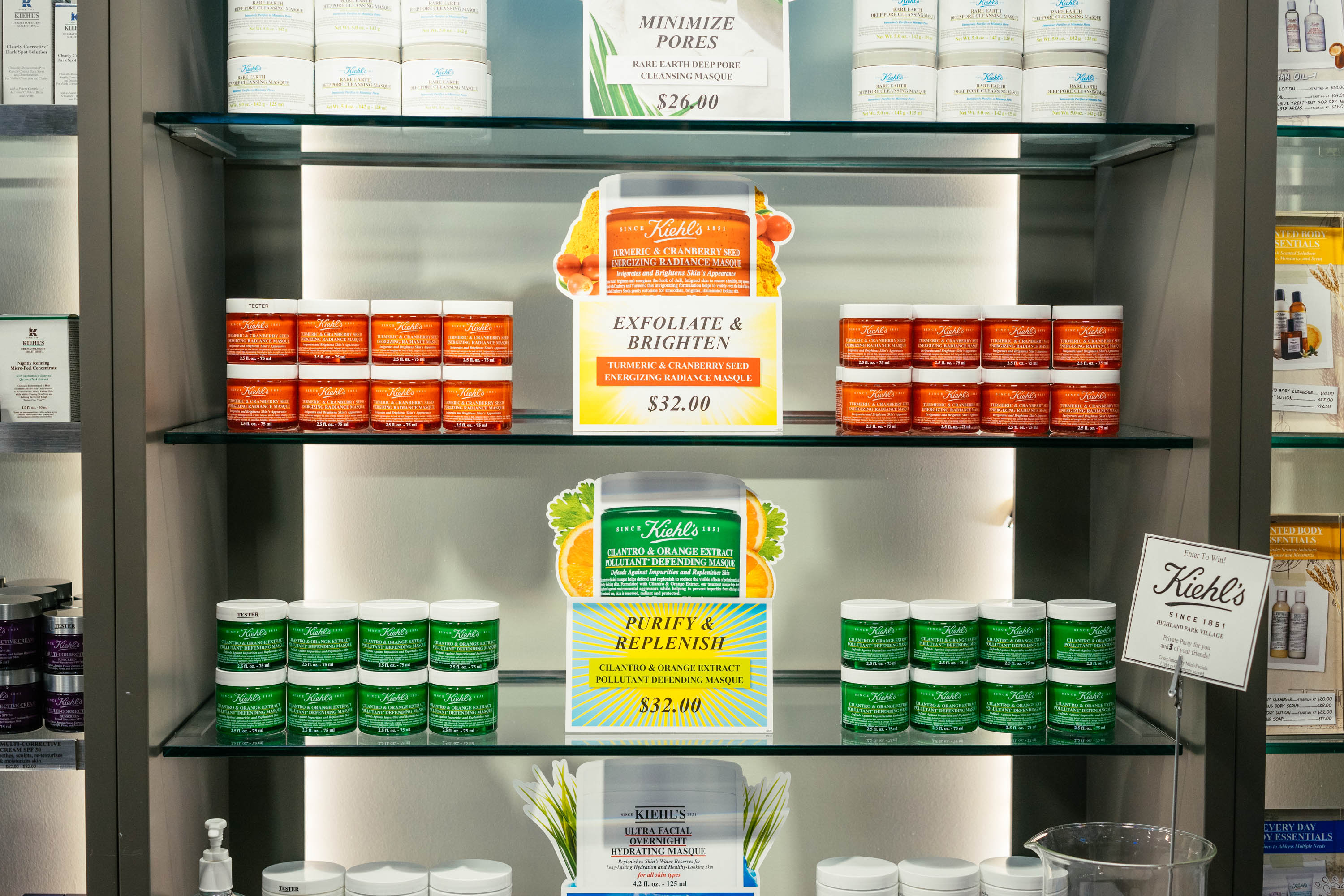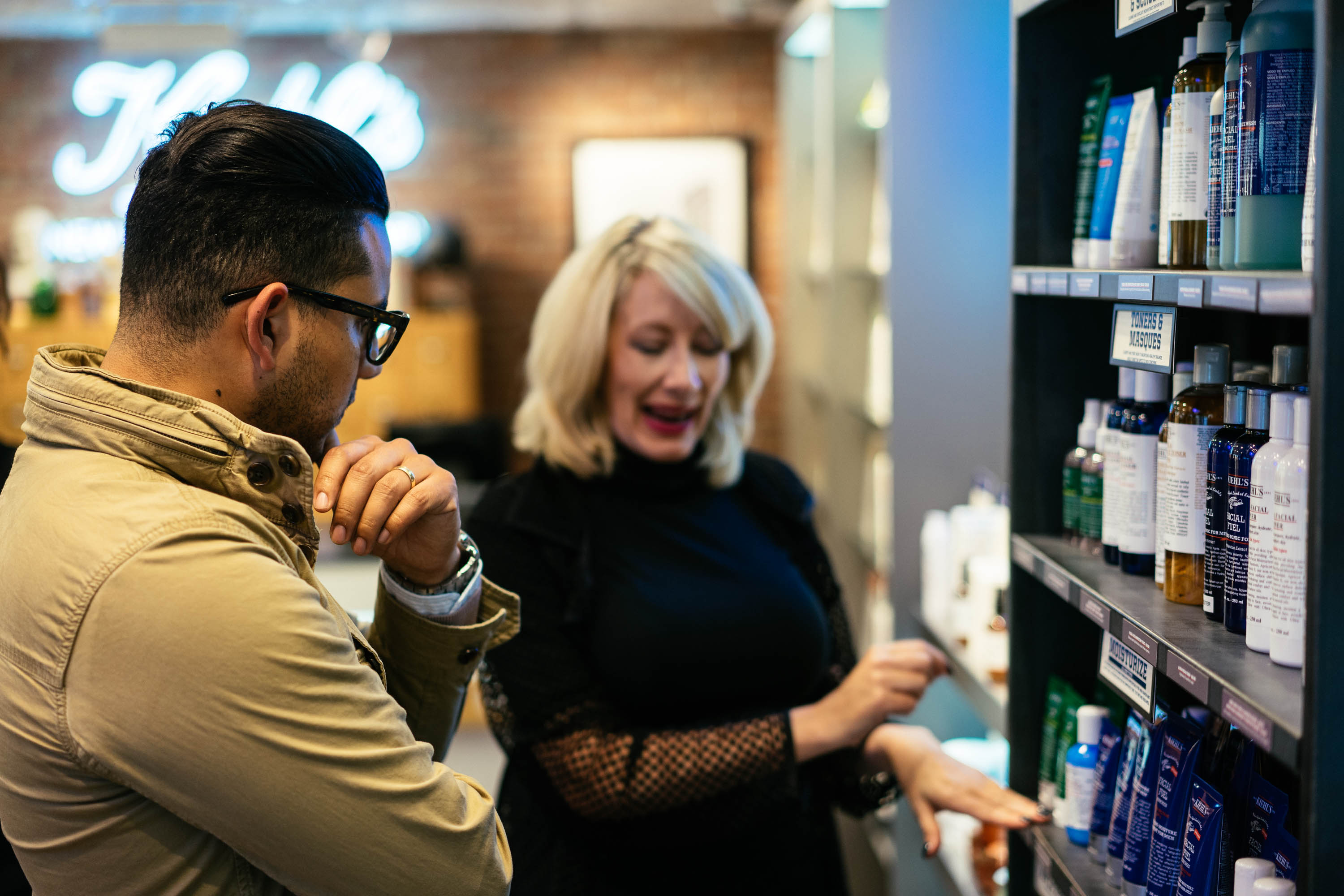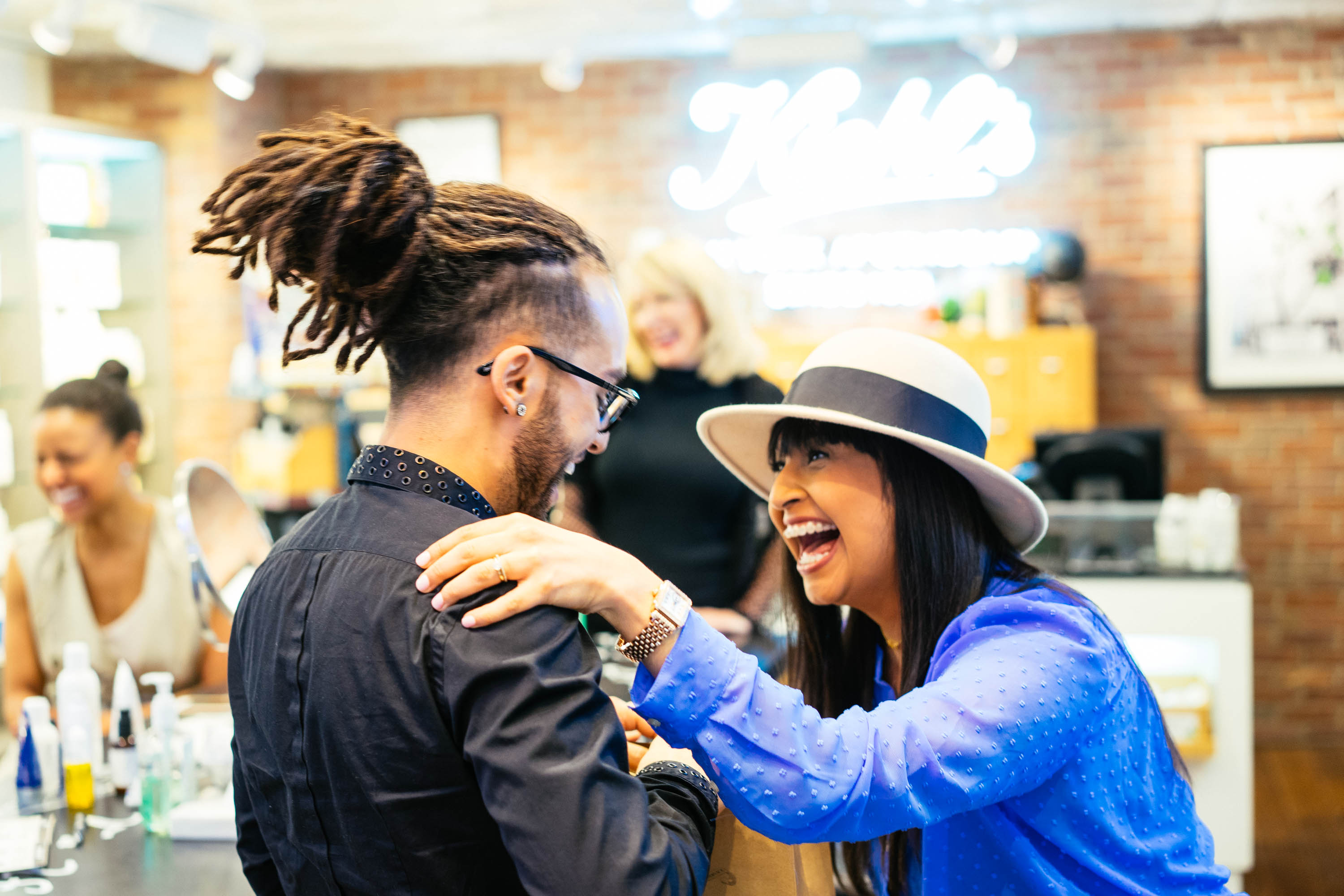 Following Kiehl's we split up and enjoyed pampering from a few different shops around the Village….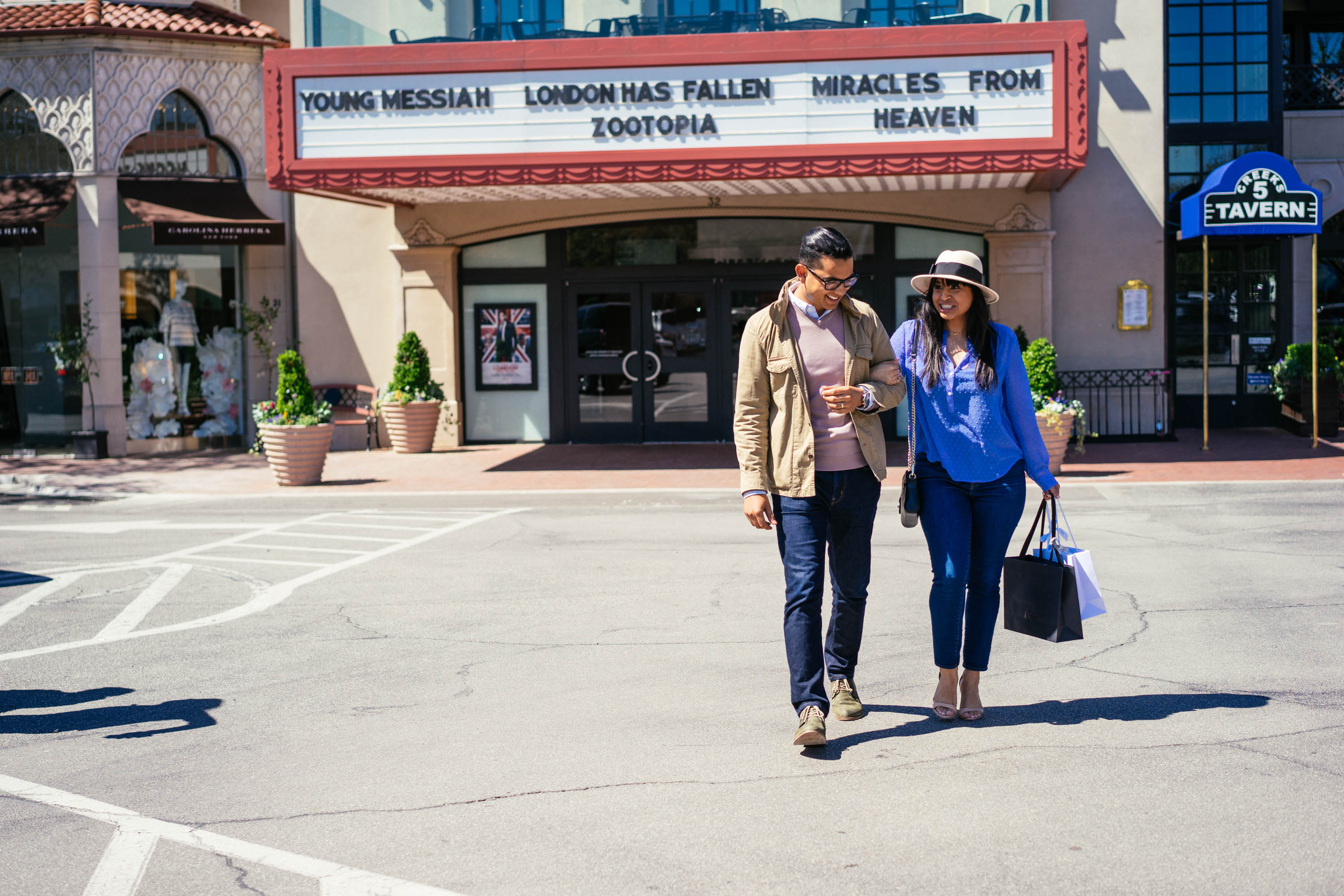 HER EXPERIENCE AT DIOR BEAUTY
I had two appointments, a facial and makeup application, with none other than Dior Beauty. The ambience at Dior simply oozed relaxation: from the gentle music playing to all white décor, it was perfect. I had the honor of having my facial done by Andre, and let me tell you…the L'Or de Vie facial was out of this world! Currently, Andre is one of only three people in the world trained by Dior who performs these facials. He rehydrated my skin, provided the missing antioxidants and informed me how to correct and maintain my skin for optimal radiance.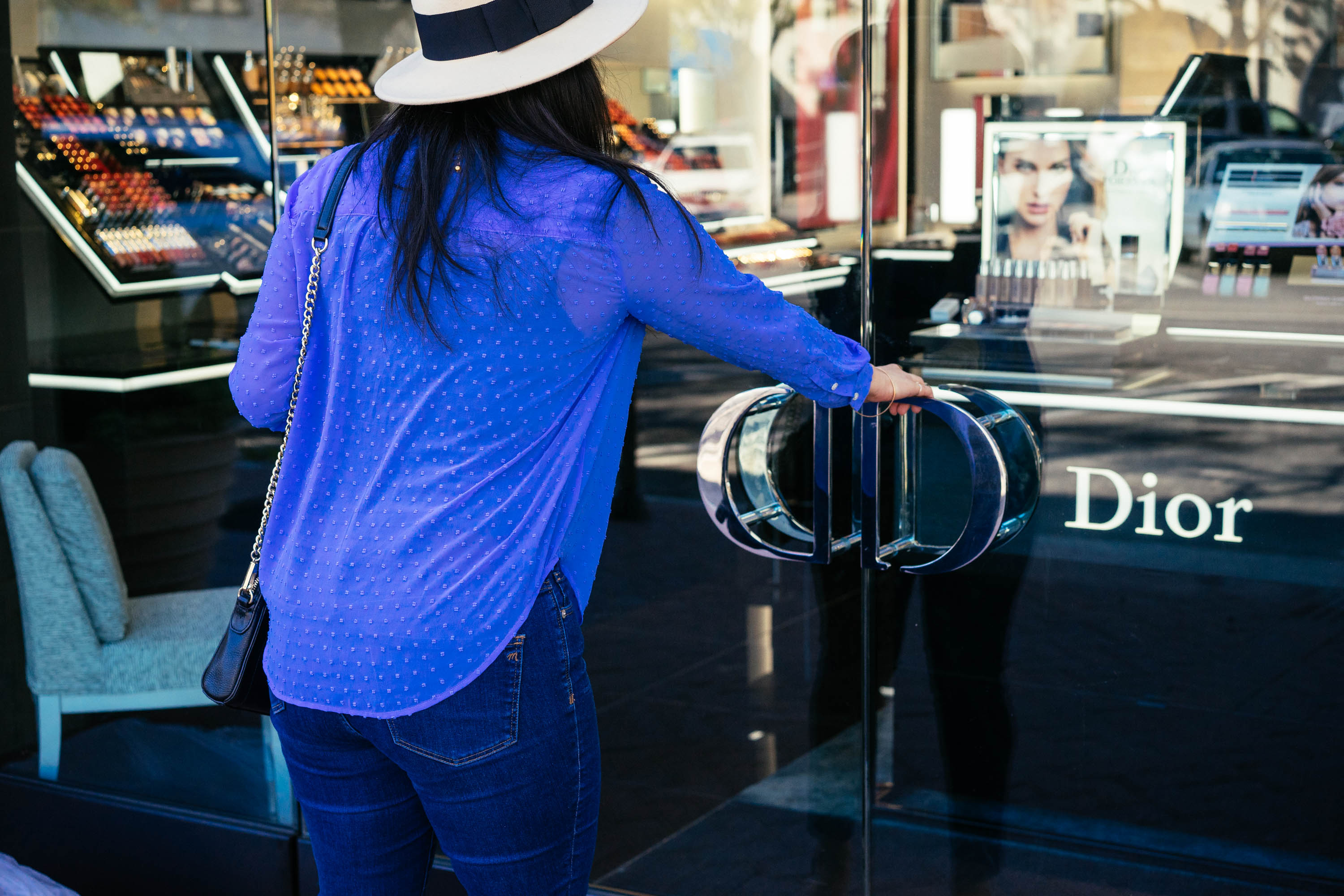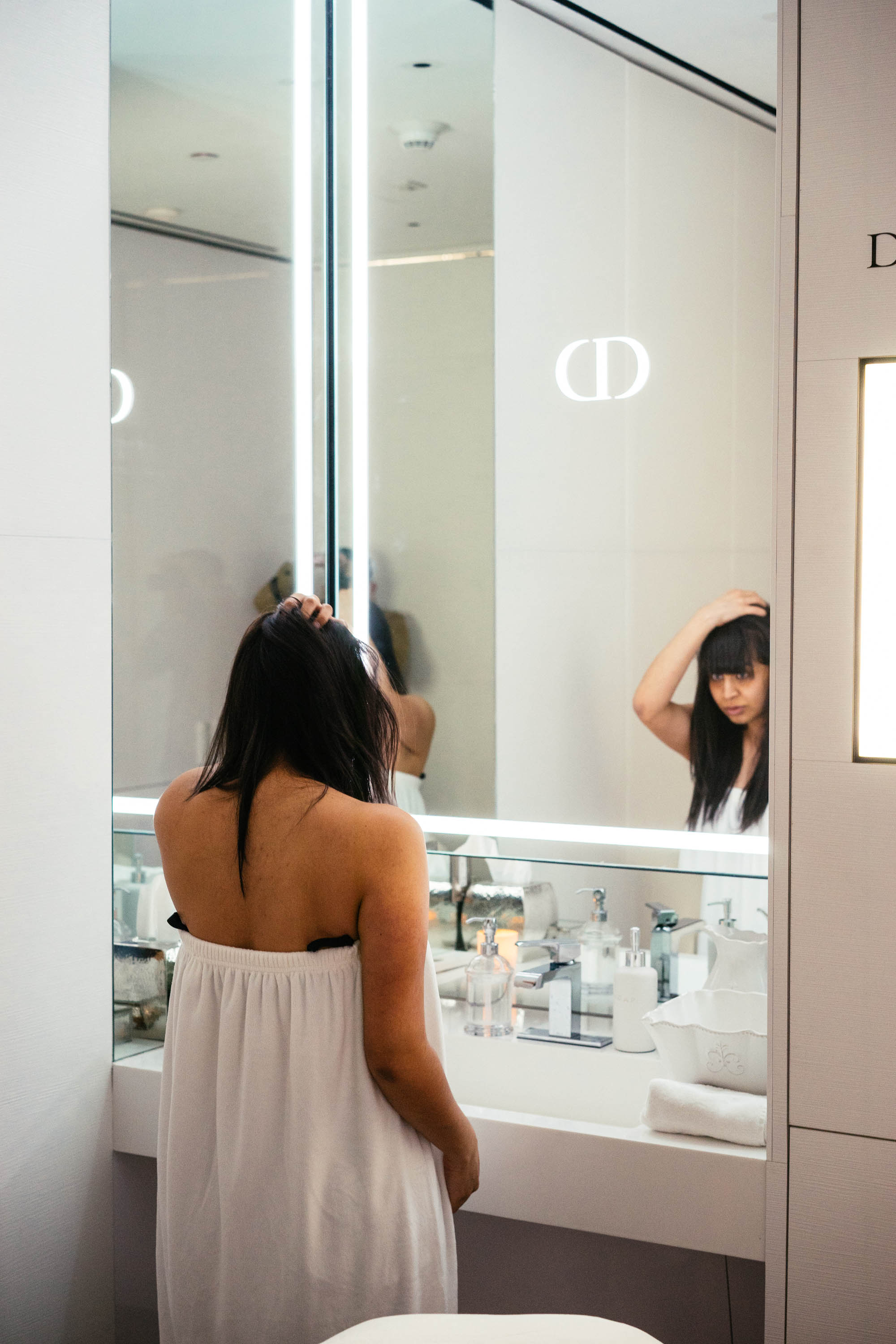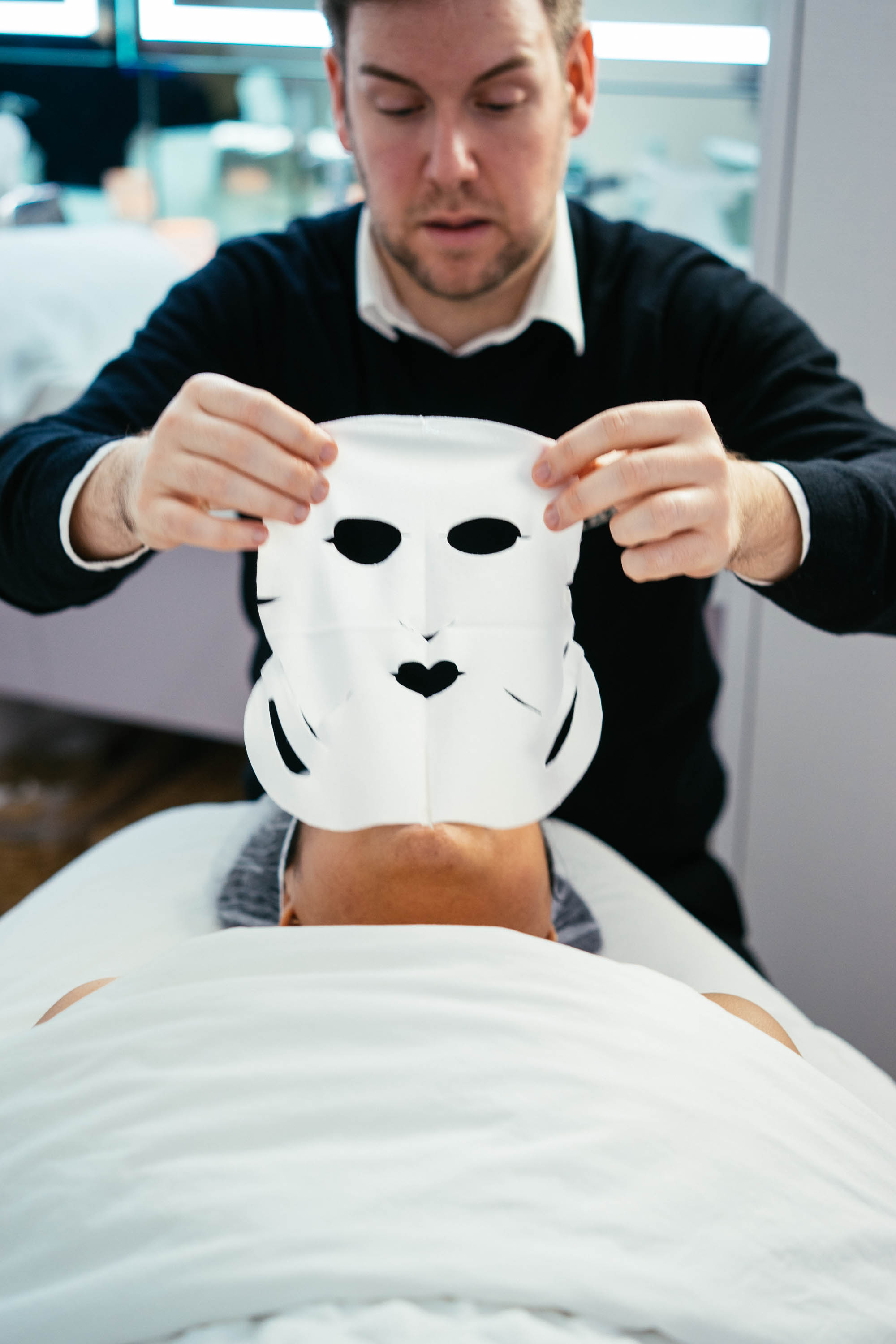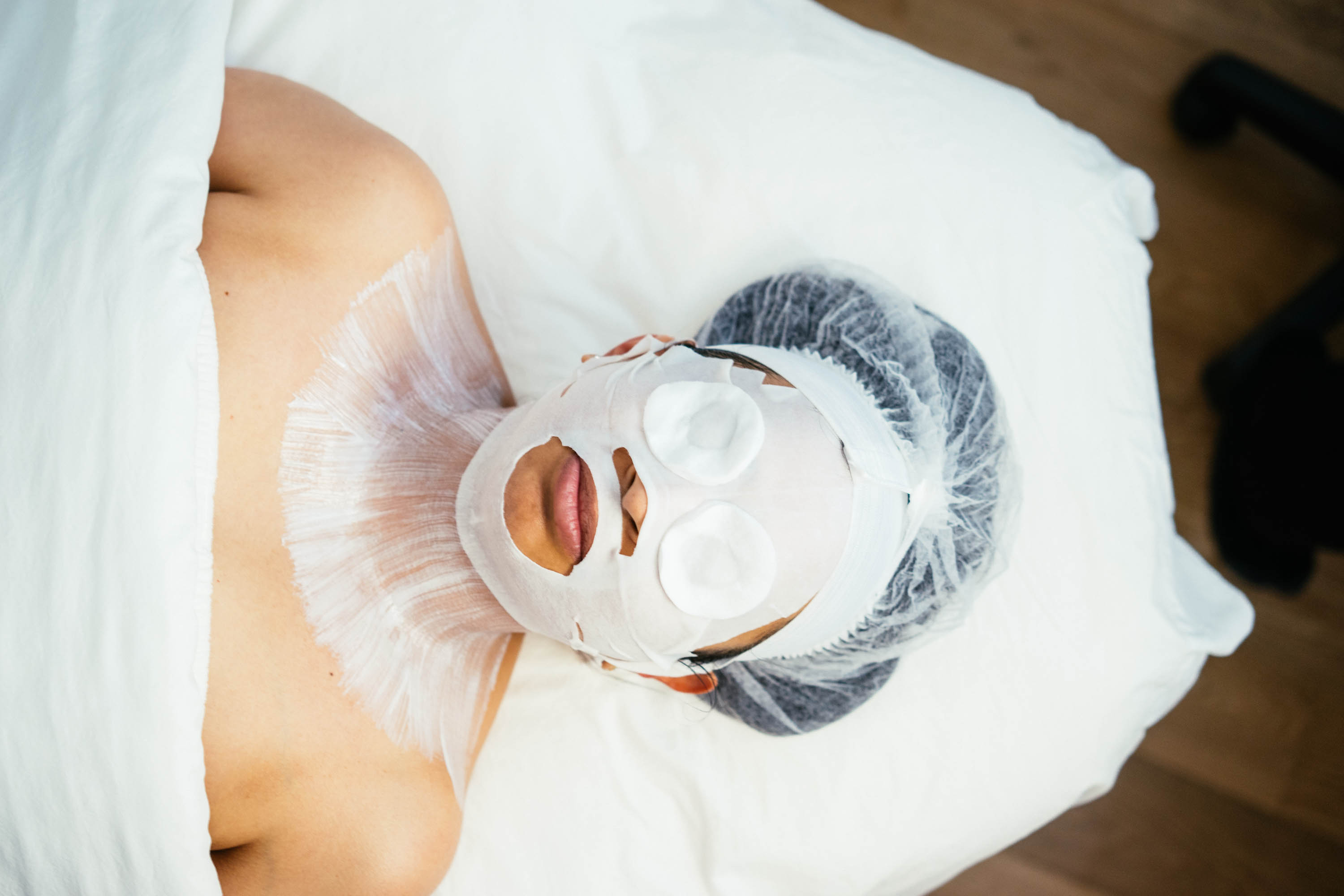 After my luxurious experience with Andre, I had my makeup consultation and application with Wendy (also part of the Dior Beauty family). Wendy has 20+ years of cosmetic experience and was a complete pro. As a former New Yorker, Wendy quickly helped me envision what my makeup should look like for the night's wedding before I had even officially decided what to wear. She was able to not only perfectly match my skin tone, but she also gave me that natural evening glow I was seeking. Wendy gave me a smoky eye and balanced the look with a pink mauve lip. During the application process, she shared with me tips to practice at home, such as contouring and blending. Seriously, my face was on cloud 9. Merci Dior Beauty!
Facial with Andre (Complimentary with the purchase of 3 skincare products)
Makeup Consultation with Wendy (Complimentary with the purchase of 3 beauty products)
HIS EXPERIENCE AT BLUEMERCURY
It had personally been a long week for me at work leading up to this appointment at Bluemercury, so a Purifying Facial with Michelle was just what the doctor ordered (and being greeted with a glass of champagne was definitely the cherry on top). After a few sips, I was ready to get after it (again, it was a LONG week). Michelle was such a delight to work with for this facial. She was sensitive to my embarrassingly low pain tolerance and really went above and beyond with my facial -oxygen treatment, a rigorous shoulder rub, the WORKS. Needless to say, I left Bluemercury feeling relaxed, revitalized and stress-free.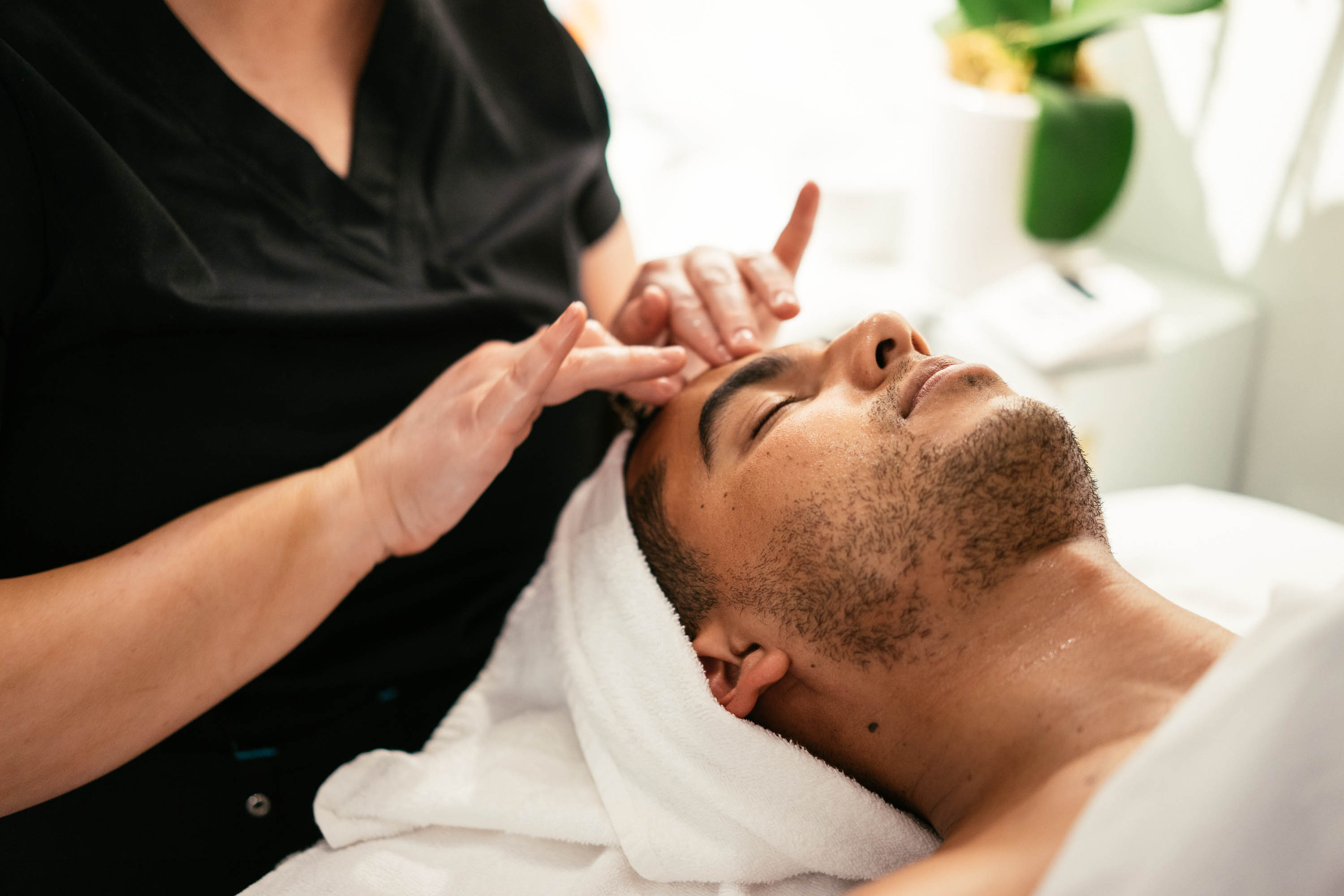 Purifying Facial with Michelle ($130)
HER EXPERIENCE AT FREDERIC FEKKAI
My final appointment of the day was a Wash and Blow Out with Tony at Frederic Fekkai. Fekkai was such a delightful experience and I encourage anyone to try the services they provide. As mentioned earlier, since I procrastinated with my wedding outfit, Tony suggested we style and wear my hair down for the evening. He envisioned more volume with loose curls (hey, in my book: "the higher the hair the closer to God"). This type of styling allowed me to pin up my hair if I had chosen to do so, or to continue wearing it down. Tony, the hair connoisseur, so graciously walked me through a couple of simple, elegant up-dos that seemed to work well with his styling, and were easy for me to accomplish.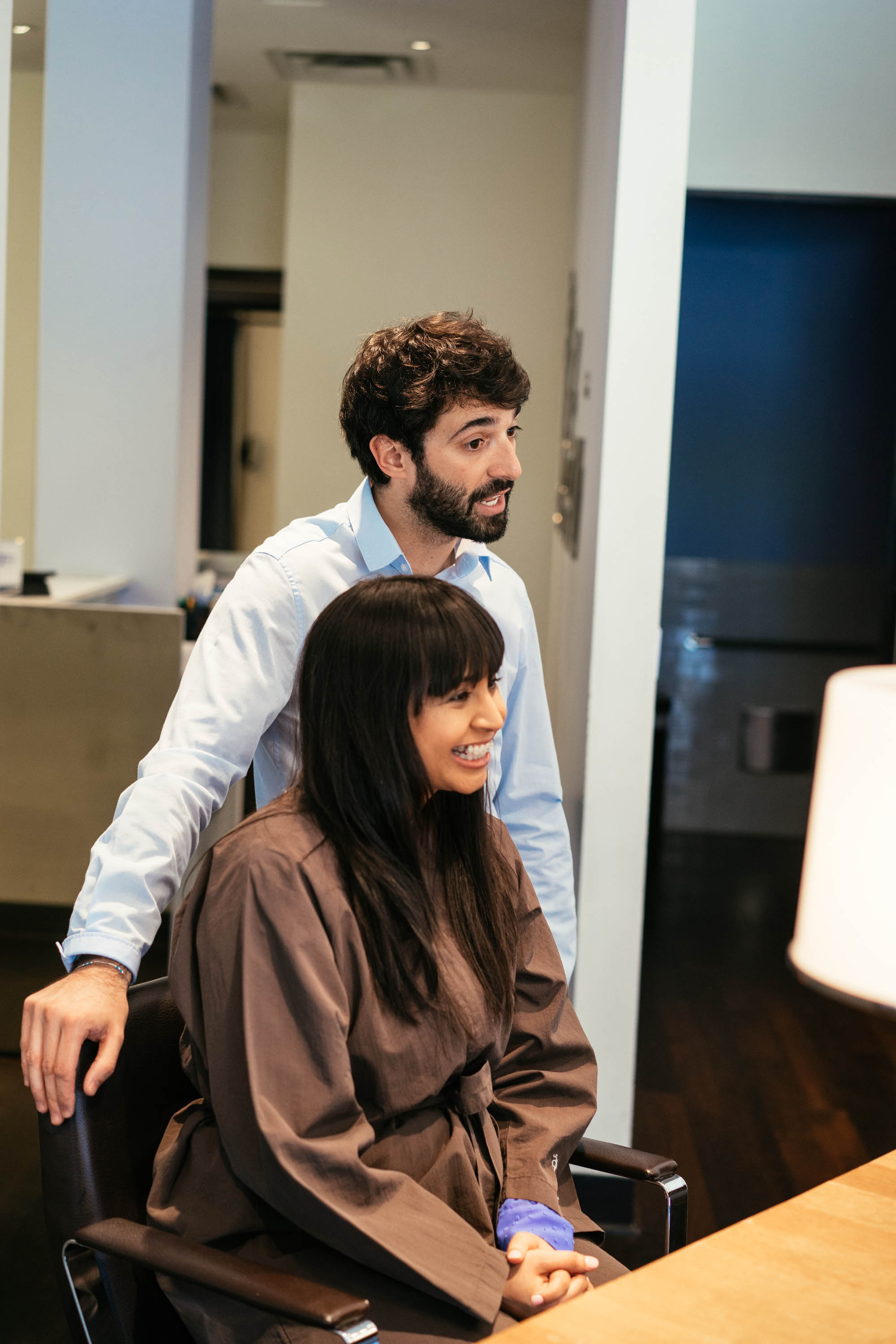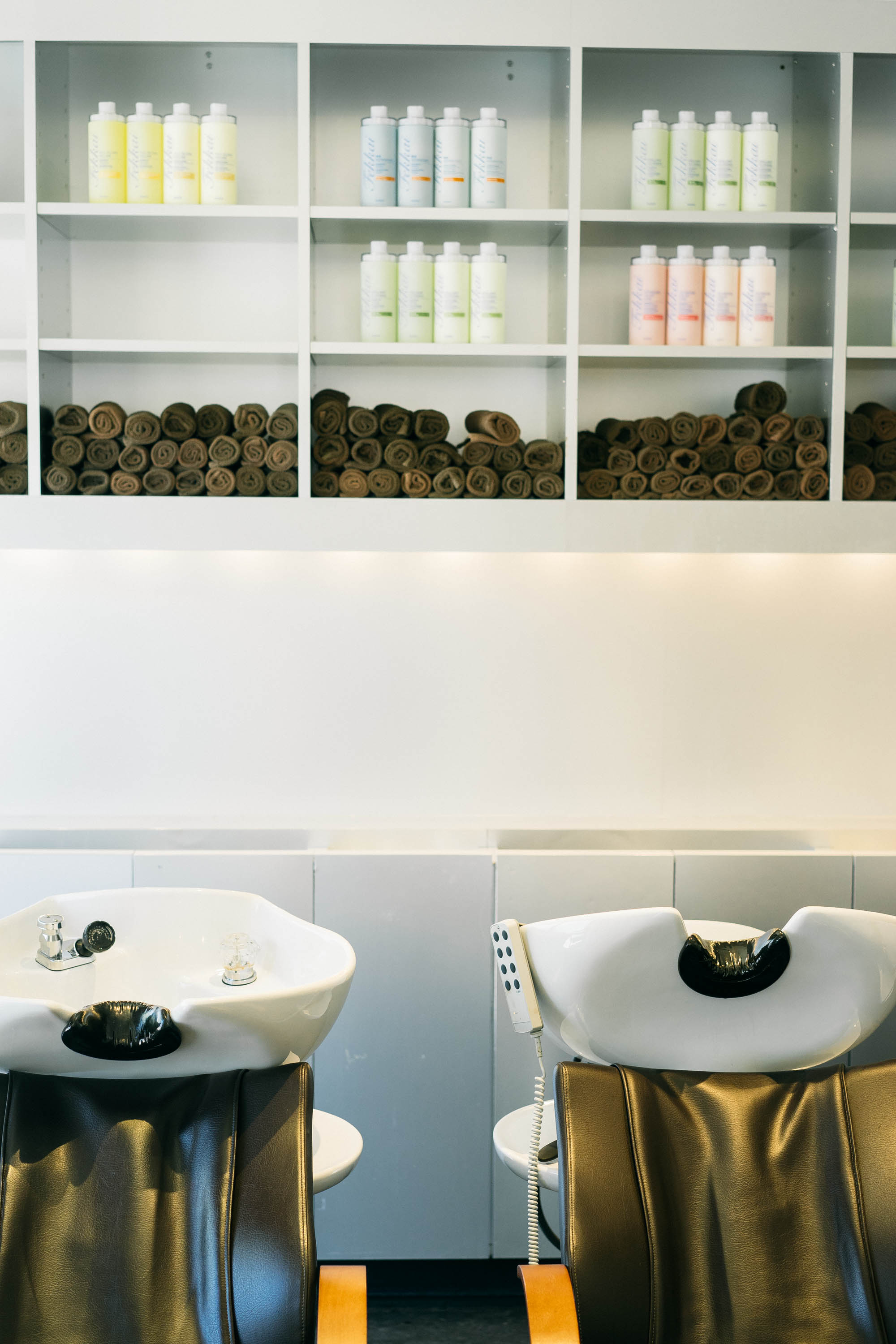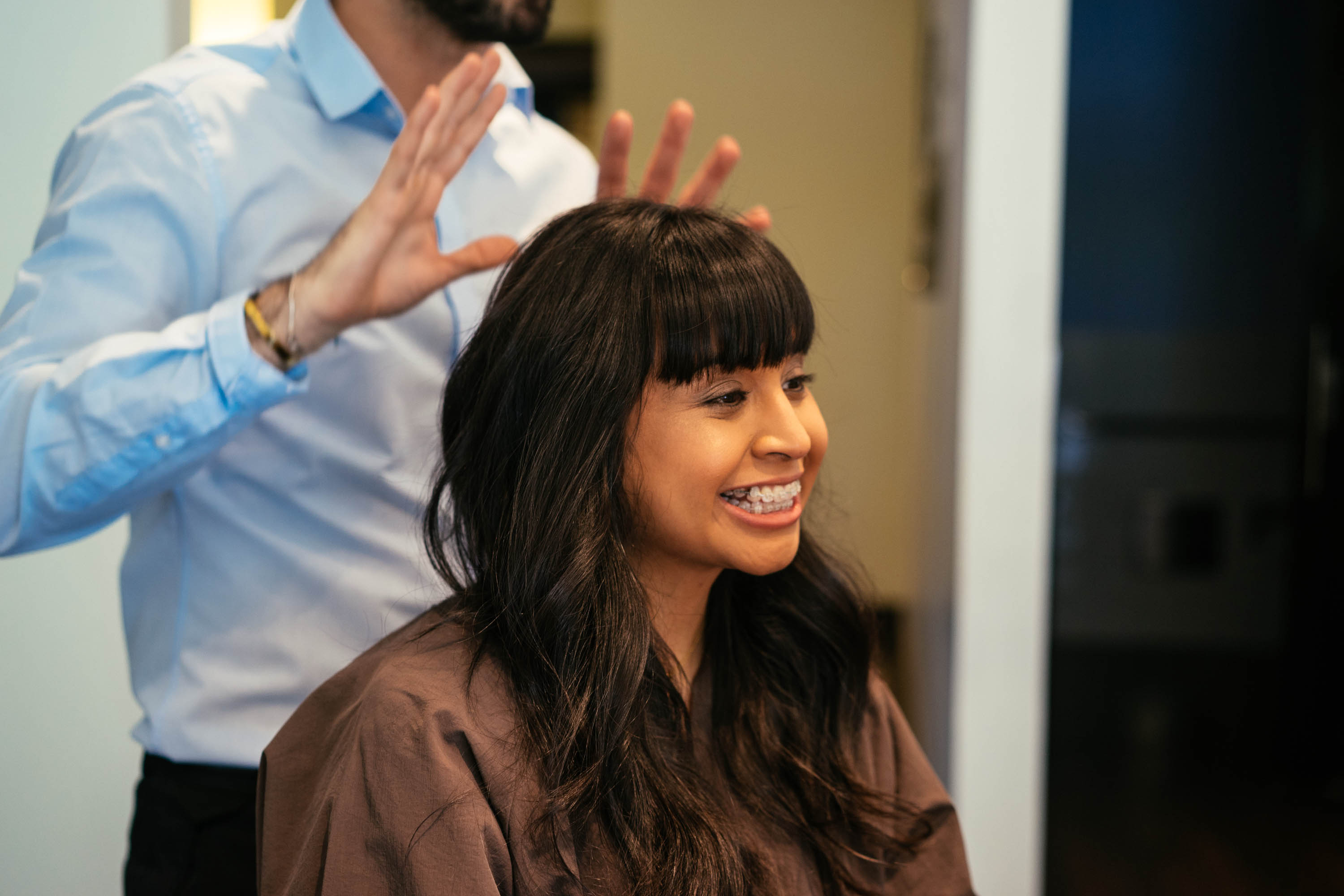 Blowout with Tony (starts at $70, includes wash)
HIS EXPERIENCE AT THE VILLAGE BARBERSHOP
My last stop was to get polished up at The Village Barbershop. Highland Park Village opened in 1931, and The Village Barbershop is currently the longest-tenured tenant on the property, having been at the Village for decades. It is a true old-school barbershop with all the associated charm-every customer was greeted by name, and the shop's clientele spanned multiple generations. While I was not there for a haircut, I had the pleasure of receiving a Hot Shave from Blake and a men's Manicure from Jackie.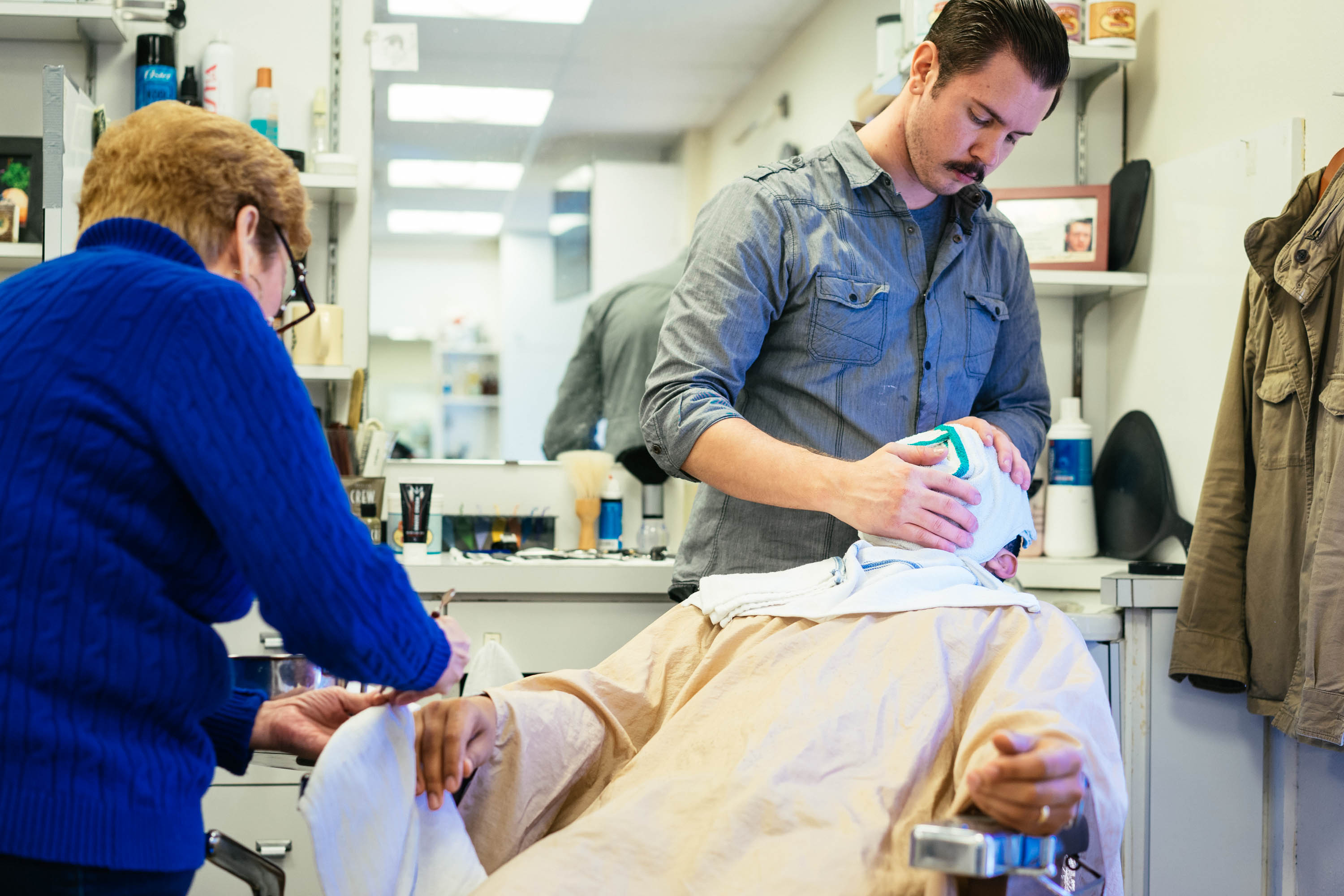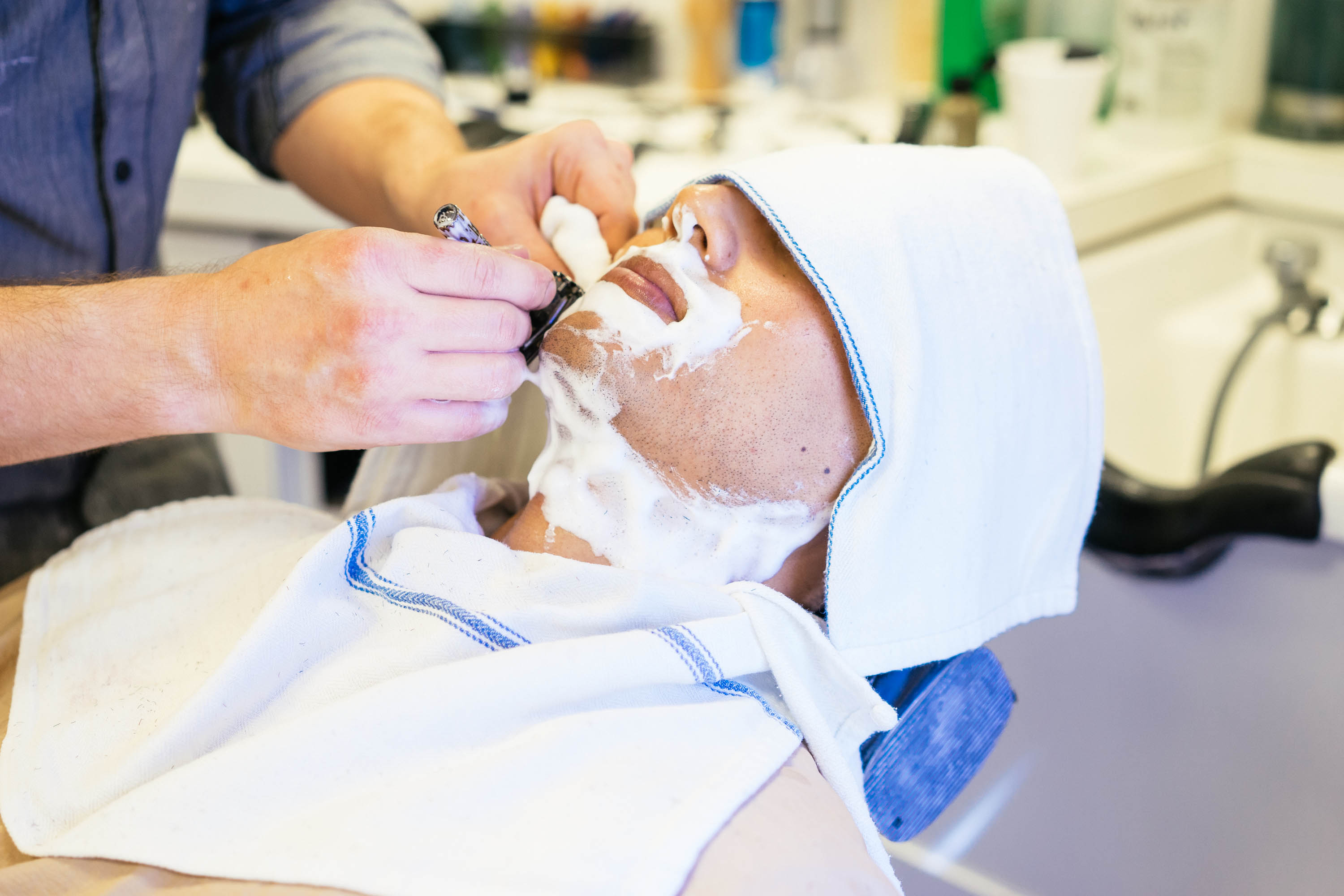 There's certainly something special about this place. Though my time was brief, I had great conversation with Blake about his upcoming wedding (which will take place in Highland Park) and got lost in conversation with Jackie about Downtown Dallas and her time spent in the same line of work at the Statler Hilton during its heyday. This rich conversation was second only to the feeling I had upon walking out of the barbershop feeling fresh-faced and polished for the night's festivities.
Shave with Blake ($19), Manicure with Jackie ($19)
Our day spent at Highland Park Village was definitely one for the books. Never have we both simultaneously enjoyed a day of pampering, relaxation and beauty like we did here. We strongly encourage you all to check out all the great beauty services and products offered at HP Village and don't forget to stop by for the first ever Beauty Event going on April 29 - May 1. As a bonus, customers who spend $150 or more on beauty products at participating stores will receive a black makeup bag filled with covetable spring beauty samples. Additionally, should you want to personalize your bag, Madison is extending 20% off monogramming as a part of the event.
We hope to see you there!
Cheers,
EDDIE + ANGELEE