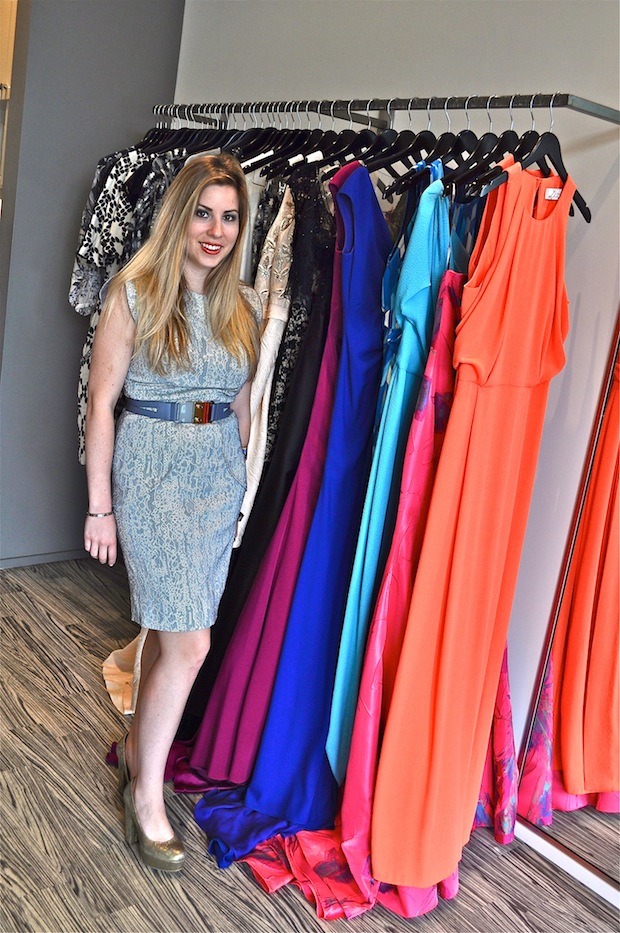 Laura Ginsburg, Lela Rose manager
We were so thrilled to catch up with Laura Ginsburg this week on Style & Social for our Style Card feature! Laura is the stylish manager of Lela Rose (+ a bride-to-be) and we couldn't be more excited for her to share some of her favorite things about Dallas, current must-haves at Lela Rose, and what she's wearing this summer.
Style & Social: What is your absolute favorite thing about living in Dallas?
Laura: In one word…everything! After being gone for almost ten years and returning home I have such a long list of reasons why I love our beautiful city. But my absolute favorite things about Dallas are: the people; being home with my family has been such a gift and the citizens of our city in general are just the best people you will find out there! I absolutely adore the sense of community that we all share.
Style & Social: What do you love most about the Lela Rose style aesthetic?
Laura: First of all there isn't a thing I dislike about the Lela Rose look which should be no surprise to our customers and my friends. I love that I always feel confident in her clothing due to the perfect balance of femininity and thoughtful details. It is also amazing to me the amount of attention and compliments I receive on the clothing from men.
My fiancé in particular loves my Lela pieces starting with an African Violet dress I wore on our first date. I find that her clothing isn't too fussy and easy to wear. I have also become a big quality snob due to the construction and finish of Lela's clothing, which is made on American soil! Additionally, I love that Lela is so inspired by art. I was an art history major in college and have always viewed Lela as a fabulous artist in her own right. Her clothing tells so many stories and the collection is always broad enough to find an outfit for any occasion.
Style & Social: What are some of your favorite pieces from Lela Rose for spring and summer?
Laura: The Spring 2013 collection is full of color, bright and happy. So picking favorites is a difficult task. I think that everyone needs several pairs of our Skinny Everyday Pants. They are so comfortable that I have pretty much tossed jeans out of my wardrobe.
We have a ton of great shapes for the season, but one of my favorites in a Navy/Ivory Rose Drawn Jacquard Sheath Dress. Although it is curve hugging it is also the perfect dress to put on after indulging a bit too much at Mi Cocina. I swear I feel sizes smaller in it!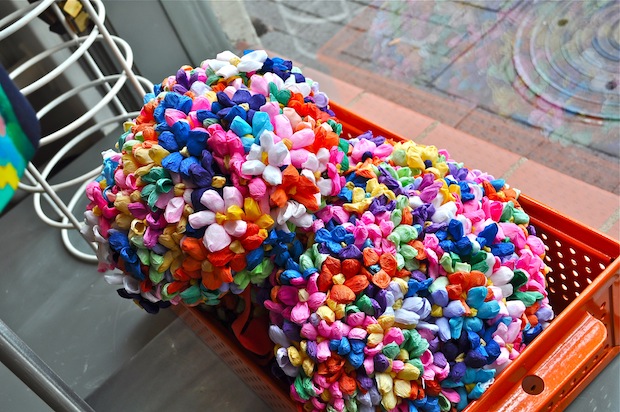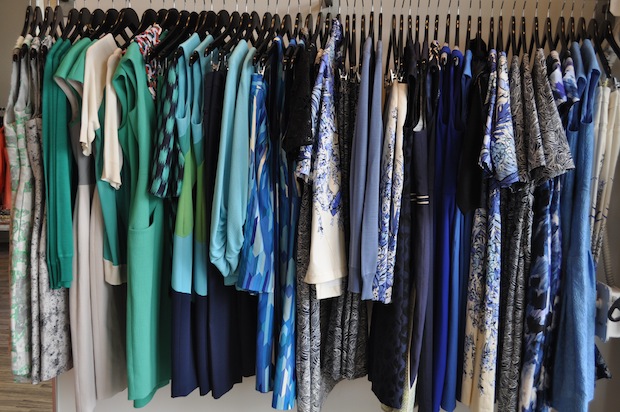 Style & Social: What are you looking forward to wearing this summer?
Laura: Our Zip Front Dresses in our Abstract Landscape Print which is full of color and the same dress in our Pebble Stretch Cotton. They are easy pieces to pack for trips and as they are made out of beautiful cotton. They are extremely effortless to put on and have so much style and personality!
Style & Social: Any special travel plans you'd like to share?
Laura: Well, I am currently writing from gorgeous Santa Fe. But I am most looking forward to my upcoming Honeymoon in Argentina. I am not great at the sit still beach vacation, so I was thrilled that my fiancé also wanted to have an active trip. We will be visiting the wine region (hopefully getting some tips from our friends at Molto Formaggio), seeing glaciers and covering as much territory as possible over our 15 days there.
Style & Social: What are your favorite brunch spots in Dallas?  Places for cocktails?
Laura: Brunching was a sport for me when I lived in Washington, DC. I have yet to master brunching in Dallas. I often find Breadwinner's to be very rewarding and love a great brunch at Nick and Sams. As for cocktails…we love our Mambo Taxi's at the Monkey Bar (upstairs bar at Mi Cocina). I also enjoy being able to crawl upstairs after a long day to enjoy a cocktail at 31. My other go to place for cocktails is the Mansion Bar. It has long been one of my favorites as I love the masculine interior, creative cocktails and the music.
Style & Social: What are you looking forward to most in 2013?
Laura: I would definitely say that I am looking forward to being a wife and to continue growing as an individual. I have some great projects coming up this year so I am excited to see where it all takes me.
Style & Social: What are your favorite books, magazines, and blogs?
Laura: I tend to snuggle up with one of the classics opposed to the New York Times Best Seller's List or Oprah's selections. Hemingway in particular always does the trick for me. I am learning to catch up on social media and the blogosphere.  Nonsense & Sensibility is a great blog. I have also enjoyed the work done by Dallas girls like Krystal Schlegel and Bradley Agather!
Style & Social: Who are your own style inspirations?
Laura: I certainly appreciate a classic and very feminine aesthetic and die over a great dress which is why my closet is full of them. I would obviously be remiss if I didn't name the wonderful Lela Rose as a personal style icon as I have a whole section of my closet (about 50% of it) dedicated just to Lela's clothing — y'all should come take a picture some day.
However, I really don't attempt to emulate anyone in particular as fashion has always been a statement of individuality for me. I would say for the most part I know what I like instantly and dictate what I wear based on what I am attracted to versus what is the hottest trend.
Style & Social: What's your favorite scent or fragrance?
Laura: I have worn Creed Spring Flower for as long as I can remember.
Style & Social: What's your favorite type of floral arrangement?
Laura: Mixing and matching textures is always important to me. Succulents have been rather popular lately and I love them as they are low maintenance and can add a lot of personality to a room. I also adore blooming branches mixed with fluffy flowers like hydrangeas.
Style & Social: Congratulations on your upcoming wedding! What have you enjoyed most about wedding planning?
Laura: Like all girls, my dress was a very special moment. My wonderful stepmom and maid of honor went with me to Lela's studio to work on my dress. When we found the dress it was a moment for everyone! Goosebumps and all. But beyond the dress it has been fun to have an abundance of family time as we plan everything out. The groom and my father have been particularly involved which I know isn't typical but I have enjoyed their thoughtful inclusions.