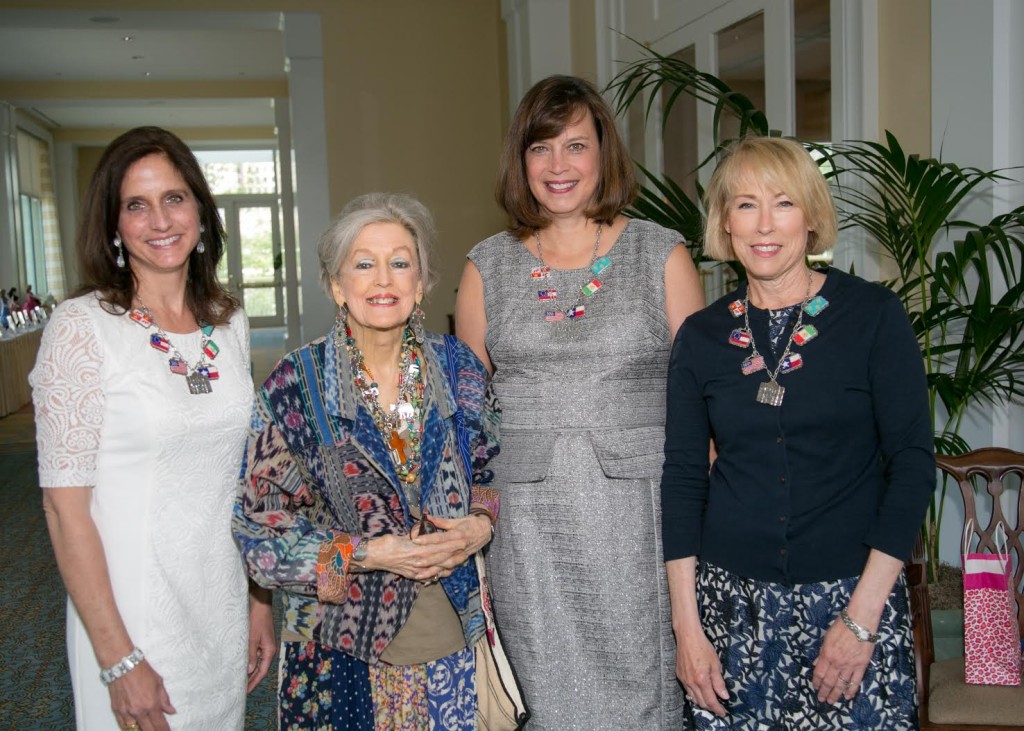 Lori Bannon, current La Fiesta Chair, Foree Hunsicker, designer, and former La FiestaChairs and Presidents Rebecca Beasley and Judy Sillers.
Today, we're sharing an interview with Foree Hunsicker on the blog. La Fiesta gowns will be displayed this year at Highland Park Village the week of June 16th at Bistro 31, Carolina Herrera, Cole Haan, Escada, Peepers, Q Custom Clothier, and Robert Talbott. 
SS: How did La Fiesta originate?
FH: La Fiesta de las Seis Banderas, "The Park Cities Festival Meeting Community Needs," was founded in 1986 provide for educational, charitable, and civic needs by receiving, investing and disbursing funds to carry out the preservation and/or development of cultural and historic attributes of the Town of Highland Park and the City of University Park and to promote neighborhood spirit by observing special events designed to celebrate traditions, bring citizens together, and honor young people. In these ways we recognize the unique heritage of the community.
SS: Where was the first La Fiesta held?
FH: The first La Fiesta was held in Highland Park Village and set a perfect example for giving back to the community. Six duchesses representing families of Highland Park and University Park were presented in historically accurate costumes representing the six flags of Texas.
SS: What was your first profession?
FH: I started my own business in the late 1980's, which involved customizing silver luggage tags. I would select old pieces of silver from the 1800's and have them reproduced with individuals names engraved.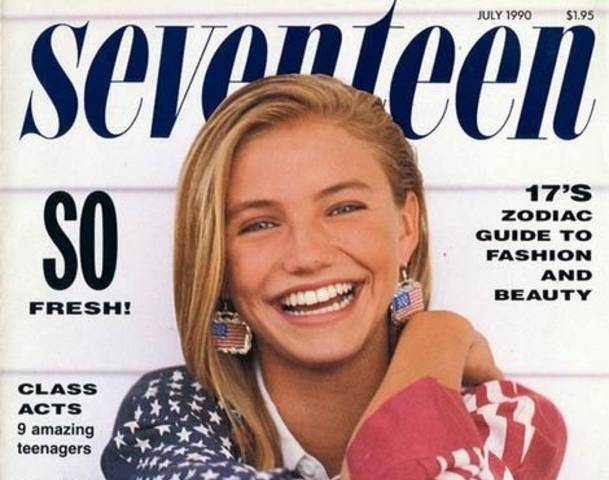 photo: Cameron Diaz wearing Foree Hunsicker jewelry on Seventeen magazine, July 1990.
SS: Has your work been featured in a magazine publication?
FH: Seventeen featured my American earrings and shawl on Cameron Diaz in their July 1900 issue.
SS:Can you elaborate more on the necklace you created for Laura Bush?
FH: I was asked to create a necklace for Laura Bush when she was living in the White House. This is where I first developed the inspiration to create a necklace that represented Texas. I honestly came up with the idea instantly to include the six flags of Texas and the Alamo. The necklace took me about three weeks to create. Along with a few other gifts, the necklace was taken to Washington DC to be given to Laura at an event. Unfortunately, all the items (including the necklace) were stolen from the event before Laura was able to receive them. I was devastated when I heard.
SS: How were you introduced to La Fiesta?
FH: Around 25 years ago I was introduced to La Fiesta through a close friend that lived on my street. She asked if I wanted to attend an upcoming event at her house. This event was one of the first La Fiesta luncheons. After attending the luncheon, La Fiesta asked me if I would create a custom made necklace for their event that would signify Texas.
SS: Can you describe the necklaces you have created for La Fiesta in the past years?
FH: Each year I have been asked to create a custom necklace for La Fiesta. I have made necklaces for La Fiesta de las Seis Banderas for the last 25 years. The necklace has always featured the six flags of Texas along with the Alamo in the center.  The six flags include Spain, France, Mexico, Republic of Texas, United States of America and the Confederate States of America.
The material that I create the necklace from varies each year, but the theme is always the same. I use silver chains and custom beading. This year, I was asked to create two necklaces. I normally use a standard 27 inch chain.
SS: What happens to the necklace(s) each year?
FH: The necklace(s) are given to the chair(s) of La Fiesta to keep as a gift for all their hard work throughout the year.
SS: What makes La Fiesta unique that you want to be a part of it each year?
FH: I love being a part of such a prestigious organization. I truly look forward to working with the organization and individuals each year.
SS: When is the La Fiesta Gala this year?
FH: The La Fiesta de las Seis Banderas Gala will be held on Saturday, June 14th at the Hilton Anatole here in Dallas. The theme this year is America the Beautiful, which will honor the 2014 Duchesses and Escorts. Normally around 600 people attend the event each year.